A San Diego family captured the heartwarming moment of bringing their newborn daughter home from the neonatal intensive care unit (NICU) and their pup's tender reaction to meeting his new sister.
Proton Cho the Golden Retriever was full of wit and curiosity when he met the newest member of his family, Ella Jo. In a cute video captured by proud parents Yumi and Stanislav "Stas" Cho, Proton steps out of the family home and quickly drops a toy from his mouth when he spots his new sister. Proton is led by Stas on a leash and approaches Ella while she is napping in her stretcher.
Proton watches the newborn for a while, sniffs Ella, tilts his head at her gentle movements, and then slowly lies down next to her. He then shows how good a babysitter he'll be by gently rocking Ella's carrier with his nose.
"Proton is our firstborn and Ella's big brother," Yumi said in a video posted by UC San Diego Health.
Ella was born on November 30th, 2021 at the age of 29 weeks. She spent a few months in the intensive care unit at UC San Diego Health's Jacobs Medical Center before returning home earlier this week.
To prepare Proton for the exciting big moment, the new parents introduced Goldie to Ella's scent by giving him their used clothes and blankets as gifts.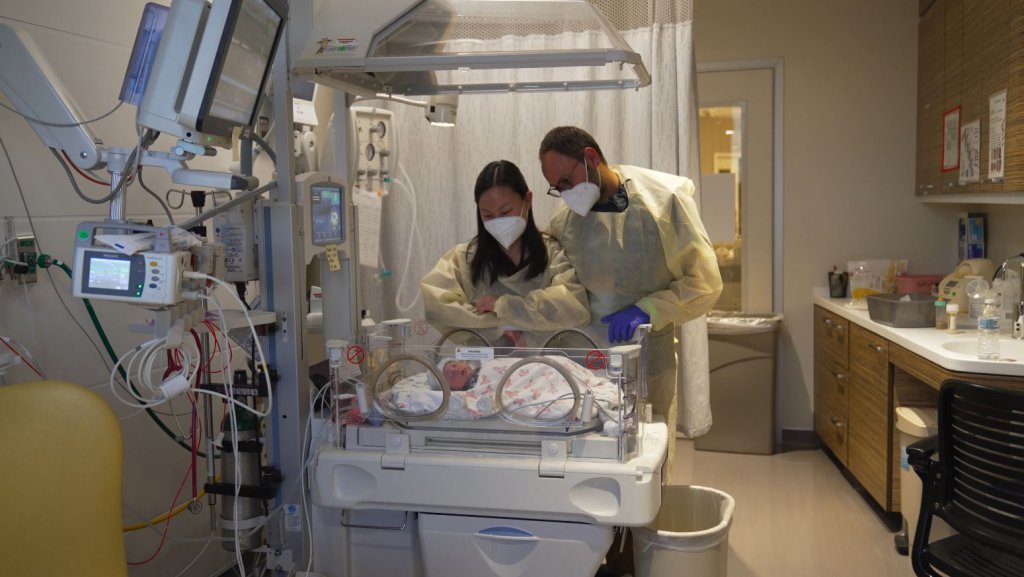 "We brought her clothes and gave them to him to get used to the smell and he just stayed there for 15-20 minutes, sniffing and licking and enjoying and relaxing, very calmly," Stas recalled. "He's got a few holes in some blankets from getting carried away, but I think he really likes her scent and he probably knows something's happening and that she'll be home soon."
Taking it a step further, Stas and Yumi often took Proton on walks outside of the medical center, while inside Ella got the care she needed.
"He sees the campus, he sees the health sector and it's just a beautiful, well-kept place," Stas said of her frequent visits. "It's just relaxing to be around, especially on a sunny day. I spoke to him (and said, 'Your mom is up there, your little sister is up there too.'"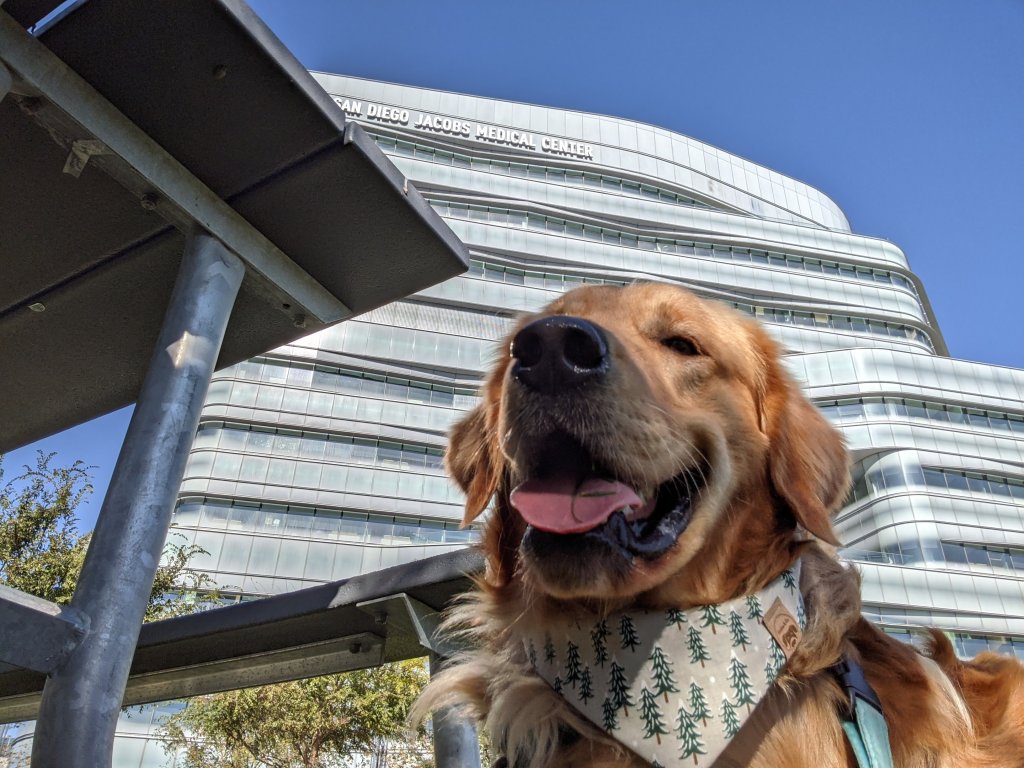 The Cho family, now all home together, celebrates the arrival of baby Ella and Proton's recent success in the Canine Good Citizen (CGC) trial. Yumi explained that they gave their pup his name because they hope he can go into therapy and thought "proton" would be a good indicator that he was exuding positivity.
"We are grateful to UC San Diego Health and all of their help and support during our two-month stay here," Yumi said. "They really took care of us in a way we could never have imagined."
You can keep up with Proton and his adventures via his Instagram page, here.