Nestled down a long dirt road in rural Franklin County, Washington is a rather humble dog school. The sign reads "Mattox Dog Training Academy" and it's adjacent to Service Peace Warriors and a modest 1,200-square-foot home. The dog school, Service Peace Warriors, and home are all owned by Mary Mattox, an equally humble woman who does remarkable things for our nation's military veterans and first responders.
Mary's story begins decades ago when, as a pregnant teenager, she was illegally brought to the United States to trade her baby. Her childhood and adolescence experiences have left a deep mark on her in ways that would take her years to understand. However, from this trauma, Mary rose to begin service peace warriora 501(c)(3) organization that provides service dogs to military veterans battling post-traumatic stress disorder (PTSD) and other duty-related medical issues.
Mary has always loved animals. She and her husband own hundreds of acres adjacent to their home that they have farmed and used for raising cattle. As her son Chance grew up, he was involved 4-H, showing goats and dogs. For over 21 years, Mary has volunteered with 4-H to support Chance and other youth.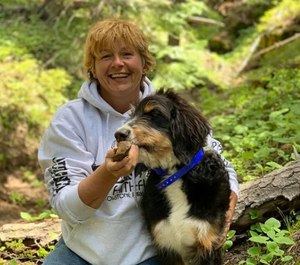 It was during this period of life that Mary experienced a massive episode of PTSD, a symptom of the complex PTSD she developed from her childhood trauma. The episode temporarily caused Mary to become completely blind and deaf. At this point she was in her living room and no one was awake except the dog.
Chance's dog, Cloud, was trained for 4-H competitions but was not a service animal. However, Cloud sensed that Mary was in a crisis. He came and laid his body next to her. Mary touched Cloud and held onto his fur. Together they slowly worked their way to the other end of the house where Mary's husband slept. It took three hours to cover the short distance.
Every time Mary felt she couldn't go any further, Cloud gently laid his head next to hers. When Mary and Cloud walked into the bedroom, Mary's husband quickly realized something was wrong. He rushed her to the emergency room, where doctors examined Mary. Her heart rate went through the roof and doctors were surprised Mary hadn't had a heart attack. Mary gives Cloud credit for saving her life, both for guiding her to her husband and for being calm enough to get to the hospital.
THE BEGINNINGS OF AN IDEA
After this big episode, Mary began researching service dogs. Her GP didn't know much about service animals but was willing to support her along the way. Armed with more knowledge, Mary trained her first dog, Sky. The benefit of a service dog was life changing for Mary. And that got her thinking, what if she could train service dogs for others battling PTSD, maybe our military veterans.
Mary and Chance chose to focus their efforts on our nation's veterans because the couple believes that the freedoms we enjoy in America are the result of the service and sacrifice of veterans. Mary's original goal was to train six dogs a year. She trained four dogs her first year, eight dogs the next year, and Service Peace Warriors took off.
Mary and Chance converted their old 4-H goat pen into a Service Peace Warriors kennel. Mary began building relationships with local businesses that understood and supported her vision. Local and regional businesses offered free and discounted dog food, free housing for visiting veterans, and help pay for vet bills. A dog rescue in Washington also gave Mary the first choice for service-qualified breeds.
Dog training is expensive. From puppies to companion animals, costs can run as high as $32,000. Veterans pay nothing. Mary generates funding for the service dogs through fundraising, donations, and grants. Mary and Chance knew these sources of funding would not be enough. To fill the shortage, they founded the Mattox Dog Training Academy, a dog school for anyone looking for help with general canine obedience.
MAKE A DIFFERENCE
Over the past few years, Mary has learned from the vicarious and direct trauma that first responders experience every day on the job. The effects of normal everyday stressors combined with the added stress of COVID-19 and civil unrest got her and Chance thinking about why firefighters, paramedics and law enforcement officers shouldn't be equipped with service animals.
However, because Service Peace Warriors receives donations and grants specifically for veterans, they have not been able to use those funds for first responder service animals. Instead, they used their profits from the Mattox Dog Training Academy to provide service dogs to two Washington police officers.
Service Peace Warriors and Mattox Dog Training Academy clients often return to Mary's training facilities for a cup of coffee, to train their dogs, and to volunteer. While visiting Service Peace Warriors, I had the opportunity to speak with a veteran and a first responder who had both benefited from Mary's program.
I saw Mary's property create a space of safety and comfort for her customers to shed their emotional body armor and be real. Mary told the story of a veteran and his wife who came to Service Peace Warriors to begin the dog training program. There the veteran opened up, began to smile and chatted. The veteran's wife told Mary it was the first time her husband had opened up like this in 10 years.
Service Peace Warriors has grown since its inception. Over the past year, Mary and Chance have been able to train and socialize 18 service dogs with veterans and first responders. Mary hopes to surpass 20 service dogs by 2022.
Interested veterans and first responders can apply for a service dog by going to https://servicepeacewarriors.org/applications. People can also contact Service Peace Warriors by email at [email protected].
Service Peace Warriors and Mattox Dog Training Academy are always looking for donors willing to support veterans and first responders. Readers interested in donating to this remarkable cause can visit https://servicepeacewarriors.org/donate.
NEXT: "I Want to Be Jared Again!": An Officer's Story of Trauma and the Healing Process